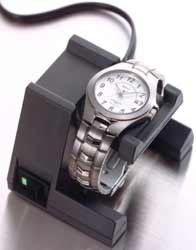 Magnetic fields are often a headache for watchmakers: they can seriously disrupt the normal running of a watch; and iron-free spring alloys are difficult and expensive to use. The solution which seems most in favor consists in constructing watch cases like magnetic Farraday cages (see our page on antimagnetism).
The vulnerabillity of watches to magnetic fields could actually be turned into an advantage… at least this what the idea of engineers at RICOH Elemex corporation when they started working on a quartz mechanism that could be charged through induction. The movement-making arm of the RICOH company eventually unveiled a collection of watches that can be easily recharged through a docking station. One night by the bedside table will keep the watch running for three months.
There are many benefits to this novelty technology:
Water-resistance
First of all, the Achilla's heel of a wrist watch case is any additional gap or breach between two of its parts. The less parts, the more water-resistant. In the 1970's, Swiss casemakers experimented with the "monobloc" construction: the case comes as a single part, in which the movement is fitted from the top and sealed with the crystal. Watchmakers who have had to perform servicing on these watches tend to dislike the "monobloc" construction, since it makes the operations of removing and fitting the movement harder.
Many companies which adopted it in the 1970's and 1980's have since dropped the "monobloc" construction for the easier to service two and three-parts constructions. A few brands like Citizen and Swatch have taken advantage of the "monobloc" construction. At Citizen, these watches use solar-powered movement which can run some 10 years before needing a servicing. At Swatch… well the whole watch is actually developped and produced as a disposable product, so servicing is redundant.
Features
Miniaturization has allowed to add many features to quartz watches: chronograph, loud speakers, artificial light or vibrating motors can help make better time devices. The main problem with such features is that they dry the batteries faster.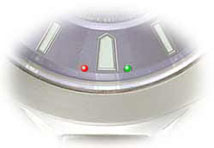 This technology also comes with fool-proof features: like most modern battery-powered quartz watches, RICOH's REQ shows when the battery starts running low. Two LEDs at 6 o'clock show the charging status and once it is fully charged, the watch no longer need a magnetic field and automatically prevents overcharging.
For these reasons, RICOH's Rechargeable Electromagnetic Quartz comes quite handy: water-resistance can be optimized through less case parts, power-draining features can be added, and the customer needs less frequents visits to a specialist to keep the device running. One could imagine super-waterproof watches relying upon this system.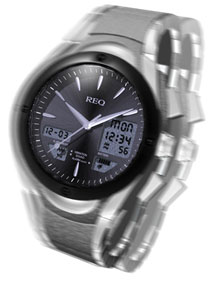 RICOH Elemex is actually open to manufacturing REQ watches for partners.